WHAT WE DO:
Supporting people in their own homes, working to promote the uniqueness of each individual and foster self-reliance, personal responsibility, and citizenship. Allowing freedom of choice to develop individual skills and interests is a core principle.
INFORMATION PACK
Download our Information Pack: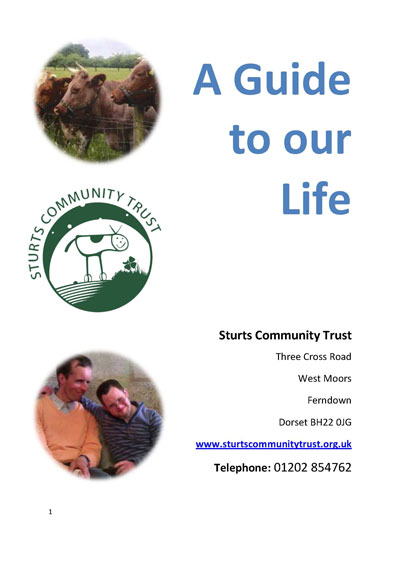 THE SOCIAL CARE COMMITTMENT
We've made the social care commitment: We've made the Social Care Commitment

HOW WE DO IT:
The Supported Living at Sturts Community Trust is committed to:
Making each individual feel respected and involved in agreeing the support they need.
Giving clear information about the care and support each individual receives and how they can make changes.
Giving clear information in an understandable format regarding the cost of support.
Keeping people safe by assessing needs, planning care and making adjustments to reflect individual's needs, values and diversity.
Supporting healthy lifestyles by using fresh produce and choice of diet.
Working together with other providers to give increased choice and access to other health and social care services they may need.
Safeguarding people from abuse.
Keeping the living environment pleasing and clean.
Giving medication at the right time and in a safe way.
Creating safe and accessible surroundings that promote well-being.
Following safe recruitment practices.
Recruiting appropriately qualified staff and supplying them with development opportunities. Offering training, supervision and support they need to care for others in a warm and positive manner.
Develop a statement of purpose along with individuals that is reviewed annually.
Assessing and monitoring the quality of the service it provides.
Encouraging feedback and the raising of concerns which are listened to and acted on effectively.
Working together with and notifying statutory bodies about key events that affect the service.
Keeping records safe in accordance with data protection act.
Promoting strong leadership and management in guiding the organisation and keeping it financially secure.
CQC REGISTRATION INFORMATION:
If you require any further information about our supported living provision please contact us.